"You should have warned me," was the remark from a friend who had given birth to her fourth child recently.
She was in the grocery store, pushing her cart of groceries, distracted at every turn. Her older two walked beside her, the oldest trying to help with the younger kids. Her second child was touching everything he could, talking nonstop and saying, "Hey, Mom, look at this!" Her third child was in the basket of the cart squeezing the bread, handling the eggs, and moving food around. The fourth, a baby, lay in his carseat, making noise as babies do.
My friend looked frazzled, as moms sometimes do when they walk through aisles of a store. Here's the secret about what moms are trying to accomplish on a trip to the grocery store: 1. Buy food that will nourish the family. (Don't get me started on how difficult that can be!) 2. Keep peace with the children. When you have more than one, it is quite possible that an argument will occur at some point in the shopping trip. 3. Keep the environment in the store as peaceful as possible and not disturb other shoppers. It can be a stressful time for moms. The glares and comments can be overwhelming.
The comment from my friend took me off guard. "You should have warned me." I didn't have time to ask her what she meant by it. Her kids required her to keep moving. Mine did as well. I'm sure she was   thinking something like, "Get me out of here -quick!"
    I am the mother of four. Currently, they are 7, 5, 4, and 2. Yes, I am a busy mom.
I suppose I could have warned her.
1.)  I could have warned her of the sleepless nights for a start. (Her children are more spread out than mine in age, but sleepless nights come with a newborn, right?) My oldest is seven. I haven't slept through the night in about seven years. All four of my children get up with the sun. Every.Single.Day. I haven't "slept in" on a weekend in seven years. (Tired Heavy Sigh) Coffee, anyone?
2.) I could have warned her of the seemingly endless amount of diapers that I changed. I had two children in diapers for five years. I am finally at the end of diapers, and I do a happy dance in my heart every time my 2 year old goes to the bathroom – by herself! (Hang in there, mama who is potty-training! Your little one WILL GET IT!)
3.) I could have warned her about mealtime. Mealtime. (Another Heavy Sigh) To this Mama, it is an endless 30 minutes at a table with four little people as I ceaselessly say any of the following:
"Don't do that."
"Stop please."
"We don't talk like that at the table."
"Can you use your fork/spoon please?"
"You need to eat."
"Don't feed the dog."
It feels like I don't get a chance to eat, because I am constantly saying, "No."
On the other hand…
4.) I guess I could have warned her about the endless giggles that I hear when they are all playing well together, which they do often.
5.) I could have warned her of the tight bond that they share with one another, which seems tighter than super glue. All four of my kids have a special bond that is irreplaceable.
6.) I could have warned about the infinite number of hugs and "I love yous" that I receive every day. The best compliments that come from the mouths of truthful children are remarkably soothing.
These are my favorites:
"I like you, Mama."
"You could never look bad in anything, Mama."
"You're so pretty."
"You're not even a little fat, like grandpa." (Haha, that one was classic.)
Reality Meets Gratitude
There are the endless piles of laundry that I wash and fold, which reminds me of how much life I have in my home everyday.
Or the dishes that remind me of how much food we have to eat, with four growing children.
I enjoy all the games we can play together as a family, which can be so much more fun with more people! Examples: board games, hide-and-seek, tag, baseball, basketball, and card games.
Keep Calm and Mother On
I have learned to stay calm when things have gone awry. One winter afternoon, I was trying to get dishes washed after lunch (no dishwasher for this mama), and I was elbow deep in soapy water. Suddenly, I had a child crying in one room, a toddler unrolling an entire roll of toilet paper in the bathroom, while another child spilled a full cup of water in the dining room — at the same time!
I suppose I could have sat my friend down and given her these warnings. But, I am certain that God will equip her with the strength and know-how to be a great mother. Not one of us is perfect; we are all trying to do our best at motherhood. And through the journey, God has so much to teach us, if we pay attention.
I just need another cup of coffee, God, and I will be awake enough to pay attention.
Do you have a large family? Or did you come from a large family? I would love to hear about it in the comments below or on social media! I would love to hear your own experiences!
Linking up:
Kelly Balarie at #RaRaLinkUp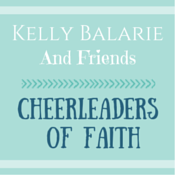 Meredith Bernard at W2W

Susan B. Mead at #DanceWithJesus